H. BEARDMORE DOBSON & SONS LTD
Ironmongery Specialists
6 Cheltenham Mount, Harrogate
HG1  1DL
Telephone 01423 502208  Fax 01423  502208
                                                                                                                                                                                                                   November 30, 2017                      
Dear Customer,
We are writing to inform you that after eighty two years in business, we have decided to cease trading at the end of November this year. We would like to thank you for your business and allegiance over the years and fully realise that you have had other options to purchase your Ironmongery supplies.
Our last effective day of business will be Thursday the 30th of November, until that date we will continue to service your account as normal. With this in mind, we ask that you settle all outstanding invoices in full by the 31st December 2017.
If you require any copy invoices and/or statements, please don't hesitate to get in touch, as we'll strive to provide our customary sales and support right up to the end.
Thank you once again for your loyal and continuous patronage you have shown us over the years, it has been very much appreciated.
Yours faithfully,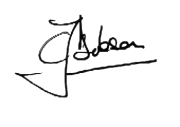 Chris & Peter Dobson